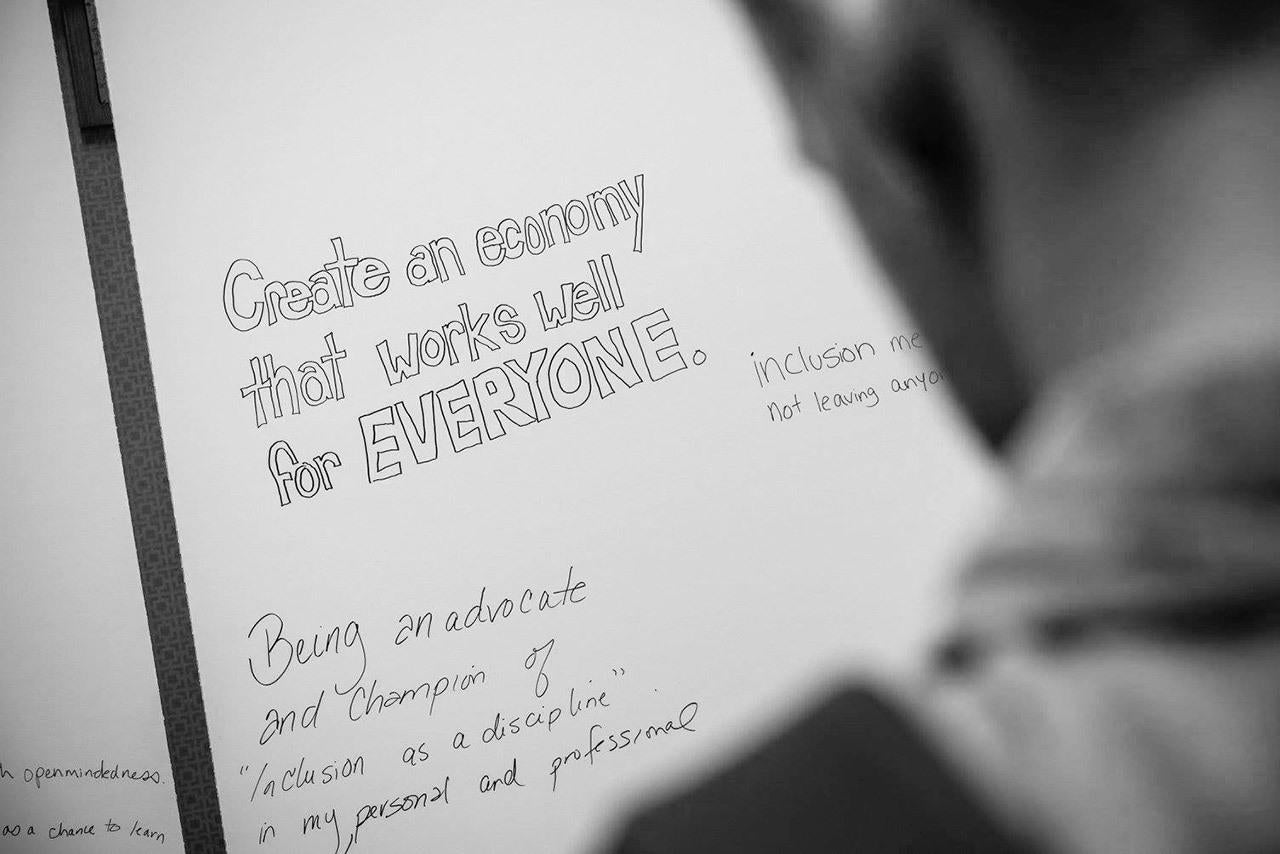 i.d.e.a. is a certified B Corp. Why? Because we believe business should have a triple bottom line: people, planet and profit. If this sounds too "woo woo," stick with me for a little longer.
At last week's B Corp Annual Retreat we listened to Gerry Valentine, founder of Vision Executive Coaching, discuss "Why Conscious Business Must Address Social Justice." He talked about how whole swaths of rural America are drowning in unemployment, addiction to opioid drugs and hopelessness. This country isn't going to become more united until that changes. The divide that is tearing this country apart has much to do with our widening economic realities. Why are so many people angry, disenfranchised and fed up? It's still "about the economy, stupid."
So who should be responsible? Some think the government. But that is fraught with partisan ugliness and, for the most part, political candidates are beholden to corporations and special interest groups. So who, then?
B Corp members believe that when business takes responsibility for its stakeholders, its employees and its community good things start to happen. It's the bright promise of a different kind of capitalism – the kind with a heart. B Corp companies work hard to make a good profit. And you know what they do with that money? They share it with their employees and their community. They plow it back to help solve society's most daunting problems.
Dr. Bronner's, also a B Corp, is a shining example of how it works. The company's mission is to make socially and environmentally responsible products while building an engine for promoting and advancing positive social change. Here's how they explain it:
From pioneering USDA certified organic personal care products, to creating Fair Trade projects across the world that ensure fair and just treatment of farmers and workers, to creating a socially responsible workplace here in the U.S., we strive to honor our heritage with progressive business practices, while devoting profits to worthwhile causes and charities worldwide.
Each B Corp company does it in their own way. San Diego is home to the 4th largest homeless population in the country and so that is where we at i.d.e.a. are dedicating our resources. For more than five years we have prepared and served monthly dinners at StandUp for Kids, an organization that feeds and supports homeless teens. This year we began working with Father Joe's Villages, the largest organization dedicated to homeless people in our city. We are providing pro bono services, along with a day of service, to this worthy group. Giving keeps us connected to our community, and the more we give the more we get, because our entire team is energized by the effort.
What could this country become if every company acted like a B Corp? Ultimately, that's our dream for a better tomorrow.